Accountancy for entrepreneurs
ELKO BUSINESS CENTER accountancy is a fast-growing Slovenian company that offers quality accountancy services in Slovenia.
We are a small team of accountants and bookkeepers who offer an individual approach to the operation of your business.Our experts with at least 10 years' experiences strive to fulfil entrepreneurs' goals in the field of finances, taxes, plan investments, optimising taxable amount, VAT, etc.
ELKO BUSINESS CENTER accountancy cooperates with highly educated experts who offer help in the field of placement of personnel and restructuring of businesses (from s.p. to d.o.o.), carry out procedures for registration of business and changes in the court register (change of business address, registered office, business activities, company, representatives) and procedures of employment and insurance.The great advantage of ELKO BUSINESS CENTER accountancy is foremost the knowledge of foreign languages.We communicate with our customers in English, German, Russian, Slovenian, Serbian and Croatian.
ELKO BUSINESS CENTER accountancy offers its clients many special offers for accountancy and other services.Check out our range of our tax and accountancy consultancy services.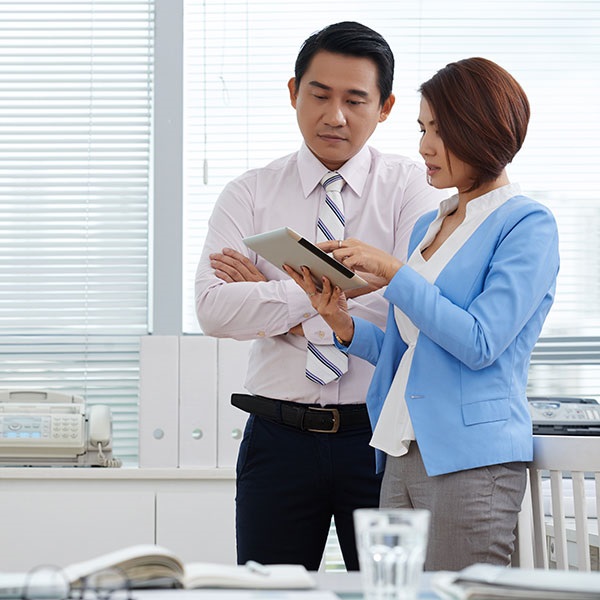 For a price list for accountancy services and detailed offers, please click the following link:
Simple bookkeeping
Double-entry bookkeeping
Become a client of our accountancy services and get a special offer for BUSINESS CONSULTANCY
50% off business consultancy
The offer is valid for new clients who sign a contract for accountancy services with ELKO BUSINESS CENTER accountancy for at least one year (the offer for consultancy is valid for one year following the signature of the contract).
Book your consultancy appointment via the web form,call us via WhatsApp or Viber +38640420609 or send an enquiry by email info@elko-business.com
Leave your everyday personnel and legal challenges to the experienced experts at the ELKO BUSINESS CENTER.
We offer consultancy, support and implementation of all operational personnel procedures.
We support your company with the following services:
Preparation of employment contracts
Registration of the employee for obligatory health insurance
Payroll calculation and other remuneration arising from the employment relationship
Preparation of different company acts
Termination of employment
Consultancy